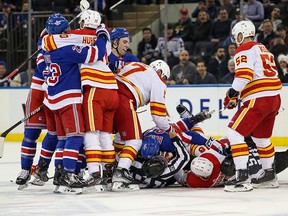 Article content
Maybe there's no such thing as a good loss.
Article content
But is it possible that some defeats aren't quite as bad as others?
Article content
It certainly seemed to feel that way on Monday night for the Calgary Flames, and not just because they still managed to pick up a point by forcing their 5-4 loss to the New York Rangers to overtime.
It was also the way they fought – both literally and figuratively – throughout their heated encounter at Madison Square Garden.
Article content
Guys stood up for each other. They had each other's backs. The Flames stormed back from three separate one-goal deficits.
If the only thing you care about is getting two points on the board, maybe that's not enough for you. But for anyone looking for signs that this particular Flames group is starting to come together as a unit, there was a lot to feel good about on Monday night.
Article content
"Obviously, we would have liked to win, up 4-3 late in the third, but definitely showed a lot of battle and grind and came back multiple times," defenceman Chris Tanev told FlamesTV host Brendan Parker on Tuesday morning. "Just didn't get the outcome we wanted.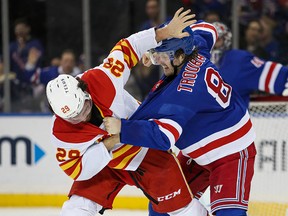 "I just think playing as a team and being there for each other, when we play five guys and have a little emotion to our game, we usually play better. We felt like we played a good game but didn't get the outcome we wanted."
From an entertainment perspective, Monday's game had a little bit of everything.
Under the bright lights at MSG, the Flames and Rangers went at it.
And the players themselves fed off that energy.
Speaking afterwards, the Flames spoke about the character the team showed.
Article content
Five things to watch on this road trip

Locations other than Victoria Park on table for new Calgary arena
Three times, a Rangers player landed a big, clean hit on one of the Flames. Three times, one of the Flames stepped up and defended their team with a fight.
Sure, there are some who will argue that seeking retribution for clean hits is unnecessary, but seeing Chris Tanev, MacKenzie Weegar and Dillon Dube step up and defend them seemed to resonate with the other guys in the Flames locker room.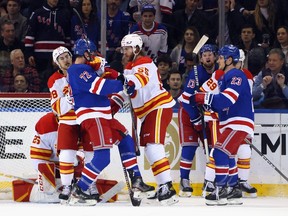 To put it plainly, it's nice to know people have your back.
"I think we had a couple guys that don't usually fight get in there and stick up for our teammates and themselves," Flames forward Andrew Mangiapane told FlamesTV and the reporters in New York after the game. "Those things are awesome to see and it shows the character of those guys."
Character. We heard that word a lot in the aftermath of Monday's game.
Article content
The Flames have had their ups-and-downs this year. Now, they're right in the thick of what looks to be a long and difficult fight for a playoff spot. They're going to need to tough-out some games and battle through adversity.
On Monday night, they looked like a team that's up for the fight.
It was only enough to earn them a single point, but they've still got three games left on their road-trip out east, and the Rangers were the only playoff team they're scheduled to face in that stretch.
They'd have liked to have secured two points, sure, but if the Flames left New York feeling a little closer as a team, nobody can say they didn't take something from their evening in the Big Apple.
"It means we're all-in," Weegar said. "We're all together here. We want it. We're going to keep pushing here. It's a big point to start a road trip off a break, coming into a tough building.
"We're going to keep grinding here and it means a lot, showing that we care for each other."
GILBERT SENT BACK DOWN
Dennis Gilbert is heading back to the Calgary Wranglers.
The defenceman was called-up by the Flames on Sunday but his fifth stint with the NHL club this season didn't last long, as the team announced he'd been assigned to their AHL affiliate on Tuesday morning.
Gilbert was a healthy scratch for Monday's game after Tanev was taken off the injury reserve list in time for the Flames game against the Rangers.