When you walk through the front door of my mother's Stuyvesant Town apartment, the first thing you see is a naively painted portrait of Jackie O, in a straw frame, staring back at you. It hangs over a deep purple couch, upholstered in a sort of ribbed velvet. On the entryway wall there are several framed pictures: a black-and-white photo of Charles F. Seelbach Jr., the captain of the Yale basketball team from 1941 to 1942; a drawing of my Spanish teacher screaming that I made in kindergarten; and a poem I wrote when I was 10 called "Art" ("art is clothing/art is hair/art is me/art is a box"). Step into the living room, and you'll see a three-bulb golden midcentury lamp, a giant oil painting I made at 16 of my mom, Ruth, topless, a surfeit of figurines and knickknacks scattered about, and so, so much more.
This is the apartment I grew up in—we moved in in 1996, and it's evolved over the years, as any home does, but retained my mother's essential Ruth-ness throughout. Every square inch of the two-bedroom unit is thoughtfully decorated. Even the bathroom: there's a plastic alligator hanging above the toilet, with various other representations of marine life lying around.
It's a perfectly maximalist apartment, a collection of oddball objects that represents my mother's 45 years of living in New York. It's also the type of home that feels unattainable for most people my age, who started their careers in the shadow of the Great Recession, and have had to contend with stagnant wages, while the cost of living has sharply increased every year. As a rootless millennial who has lived at seven different addresses in the past decade, I haven't really had the opportunity to create a home like my mother has. This quasi-nomadic lifestyle is normal for my generation: we move in somewhere, after a few years we get priced out, and then we have to move. Our belongings amount to what can fit in a U-Haul. So when I visited New York in February, I sat down with my mom to talk about what it means to build a home, and her keen eye for weirdo decoration. Our conversation has been edited and condensed for clarity.
Eve Peyser: I don't know if I've been to another house that's so thoroughly decorated. I'm curious about the evolution of the decoration and why you like having so, so many trinkets. 
Ruth Peyser: I've never had much money. And I'm a visual person. My whole life I've done something in the art field as a designer, a filmmaker, an illustrator. But I never really thought about decorating a place. That never came up. I moved into this teeny apartment on East 13th Street in 1980 with no furniture. I went around to local thrift stores. I've always liked the midcentury look, which I know is really stylish now.
That painting of Jackie O, a friend of mine found that. The two chairs at the end of the dining table, I got for a few dollars at a thrift shop. And you contributed a lot of the artwork on the walls—it fit, sensibility-wise, too. And there's my own artwork that I've put up.
The stuff just builds up over the years without any thought about where it's going to go in the apartment. There's no design. When I bring something in, I always think carefully of a place it will go so it doesn't look cluttered. I don't want to be an old lady hoarder. When things are too cluttered, you can't see clearly.
I'm so used to this stuff. It's just there. When I walk in, it just feels like home and a part of me.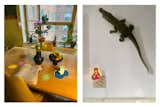 It wasn't really until [my fiancé] Hudson came here for the first time, and was like, "Wow your mom's apartment is great" that I realized just how special it was. It's such a lovely reflection of who you are and the history of our family. I know dad only lived here for a few years before you split up, but I'm curious about the influence he had on the apartment's aesthetic.
Our sensibilities certainly overlapped. The picture of the Yale guy was something he found on the street. I remember we saw the gold three-bulb lamp and it was $60 and we really weren't sure if we could afford it, and then one day, he came home carrying that huge pole lamp with one arm, and your two-year-old sister in the other. There are some other things that are his too. We didn't have any idea of the exact way we were going to decorate the apartment. We just liked going to thrift stores together.
Something I love about this place is how old everything is. Because much of what you'd buy that's made in the past 20 years is not built to last.
Even the chair in the living room, it's a classic Ikea chair but it's made of wood. I've had it for so long I had to re-cover it. This couch was a splurge from some furniture store on 16th Street that doesn't exist anymore. The green lamp is from a thrift store. The wooden drawing table was from your dad. That metal cabinet over there was, again, from Ikea. I covered it in black furry fabric after you put Spice Girls stickers all over it.
I'm sorry, but also, I love how much of your furniture you've reupholstered and modified yourself.
I got the chairs at the dining table from my downstairs neighbor on 13th Street. They were all ripped apart and she didn't know what to do with them, but the shape was so beautiful, so I got them re-covered. Then I got that bronze statue of FDR and Lincoln and…?
George Washington.
I think you're right. I got that at a thrift store. It used to be a clock but the clock had been removed by the time I bought it, so it was blank. So for some reason, I decided to put in a 3D image of Pope John Paul or whoever that guy is.
When I went to art school, it was all creative and exciting, and I was really disappointed I couldn't break into that world. Having earned my living as a graphic designer, I couldn't be super creative in my work. In my life outside of my work, I could just be me. I express myself through my apartment. That's really important to me.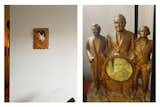 When did you move from Sydney to New York?
1978. I knew one person when I moved here, so I stayed with him. Then I lived on 6th Avenue and West 27th, above the Donut Palace. It was $100 a month. I had one roommate, who was very nice but super weird. She had a million cats. The place was really dirty. I had no money. In 1980, I moved into my own apartment on East 13th for $300 a month. I stayed there until 1996, when I moved here. I remember it was $1,250 a month or something, which felt like a tremendous amount of money.
Wait—you've been in New York for 45 years and you've only lived in three apartments?
Yes. And I'll never move again because it's rent-stabilized. I can't afford to move. For what I pay for this apartment, I could maybe live in a small studio in Manhattan—
If you're lucky!
Yeah. When I first moved in here, there were so many old people in Stuyvesant Town. I thought, well I'm not going to die here. But I take that back. I will die here.
Whenever I come back to New York, I think about how crazy it is that so many people who don't make a lot of money or are lucky enough to have a rent-controlled or stabilized apartment live here. Especially now that, at least in my industry, work is remote. It wasn't easy for me to leave the city, but it takes so much out of you. Just the cost of living here. I never thought I'd leave New York, but I found moving to Reno [in 2020] so liberating. My life was no longer dictated by financial anxiety. I think Hudson and I will likely stay in the Portland, Oregon, area [where we moved in 2022] for a while. Obviously, when you moved to New York, things were very different.
For those first 10 years or so, New York was so exciting. I was young and immature, but when I look back on it, I had a great time, having just graduated from art school, going out to hear all this amazing music, seeing dance performances, and all the art. I had never seen anything like it before. I was just a girl from Sydney. Then you have kids and your life changes. The city started to really change in the late '80s. I've stayed because I have history here. Friendships of many years. And [my granddaughter] Izzy of course.
I love New York. It will always be my home. But I have so much resentment toward it. I almost feel rejected by New York. I grew up in the East Village, and by the time I was old enough to move out, I could never afford to live in this neighborhood. I get annoyed by some of the conversation surrounding gentrification because I was priced out of the neighborhood I grew up in—what am I supposed to do, you know? Then I move to Bushwick and then Greenpoint, and then I get priced out of the city entirely. The other day, Hudson wrote down every apartment and house he's lived in and then I did the same, and we each had like 10 to 12 different addresses on our lists. And we're still pretty young! I'd really love to have a place that's as lived in as yours is.
You could never do that in New York. But you left, so you will eventually. You guys already have a lot of great stuff, and your place is big, so it'll take a while to fill it, but when you have kids, it gets full very quickly. A lot of the stuff here is remnants of toys, things from when you and your sister were little. I kept all your coolest toys. But yeah, if you're not in New York, there's more of an opportunity to build your home environment.
It's sad I couldn't do it in New York. And look, I'm really glad we moved. I kind of love the suburbs. I love my car. I love going on nice hikes. But all my friends are here. My family is here. I built a life I had to leave. I think the benefits outweigh the drawbacks, but it feels almost unfair to me.
How old were you when you left New York?
26.
I was 24 when I left Australia. You're still young. You leave where you grew up. You build a life somewhere else. 
Top Illustration by Olga Shtonda
Related Reading:
On 'Party Down,' It's All About Location, Location, Location
We Read Midcentury Playboy for the Articles—on Modern Design