An 'inner city hideaway' in lisbon
Portuguese architecture practice Fragmentos presents a recently completed house, dubbed Casa Prazeres 37, with photography by Ivo Tavares. The project takes shape as the renovation of a pre-existing structure in Lisbon into a single-family dwelling, and as such, the design team sought to enhance the heritage of the once vacant building. The team accomplishes this with a curated landscape across the sweeping plot on which the house is sited, enveloping the built space in lush plant-life.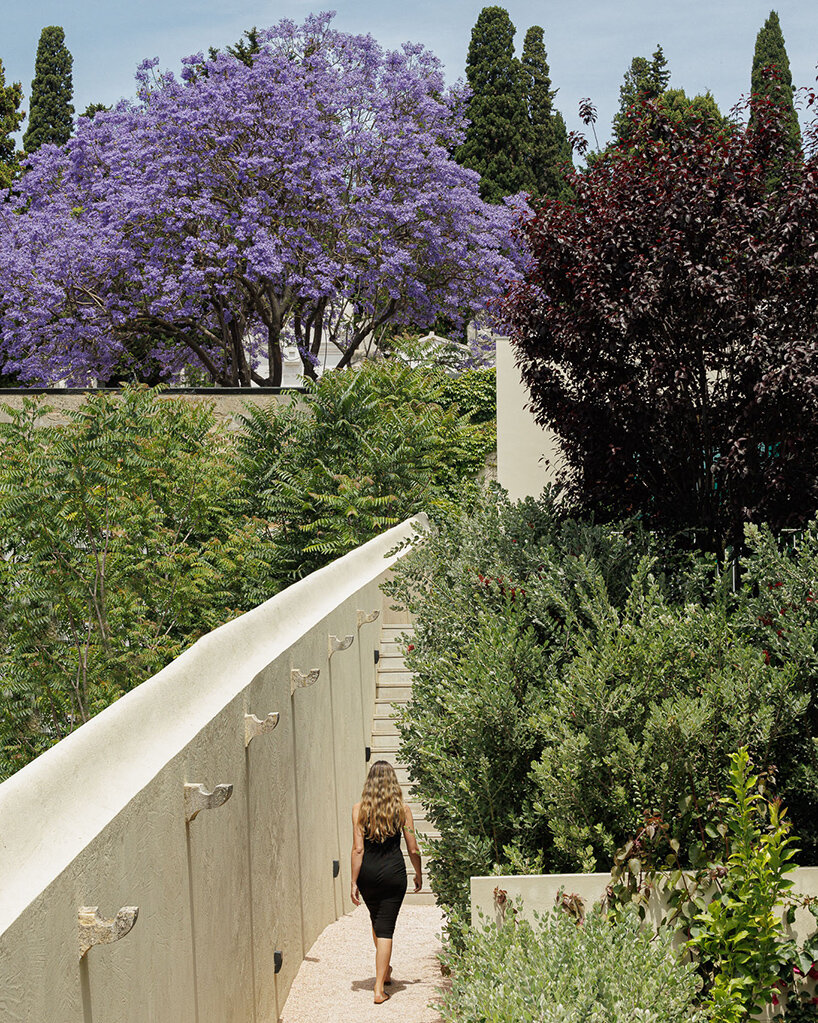 images © Ivo Tavares Studio | @ivotavaresstudio
adapting prazeres 37 to its site
The architects at Fragmentos notes that among their main concerns in designing Casa Prazeres 37 is to 'develop a volume as an anonymous element, blending into its surroundings and the existing green space.' The house is divided between two levels so that the structure adapts to the sloping site, defining a 'relationship with the construction in the neighboring plot.'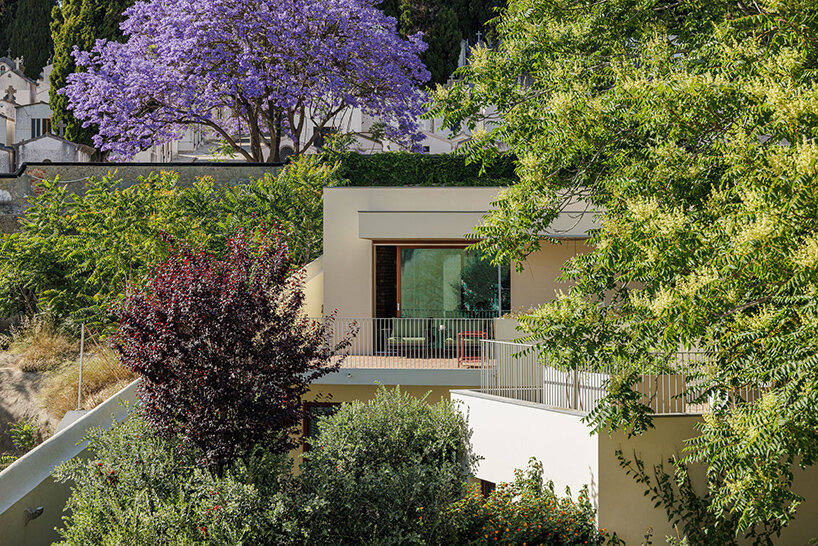 inside the sunlit home
The upper level of Prazeres 37 comprises the gathering spaces of the home, including open and interconnected living, dining and kitchen areas. This, together with large, glazed openings lends a breezy, sunlit atmosphere along the interiors. Meanwhile, the lower level includes five suites — one of them independent — which each overlook the garden and pool. Overall, the team sought to ensure the privacy of the occupants while maintaining the feeling of openness.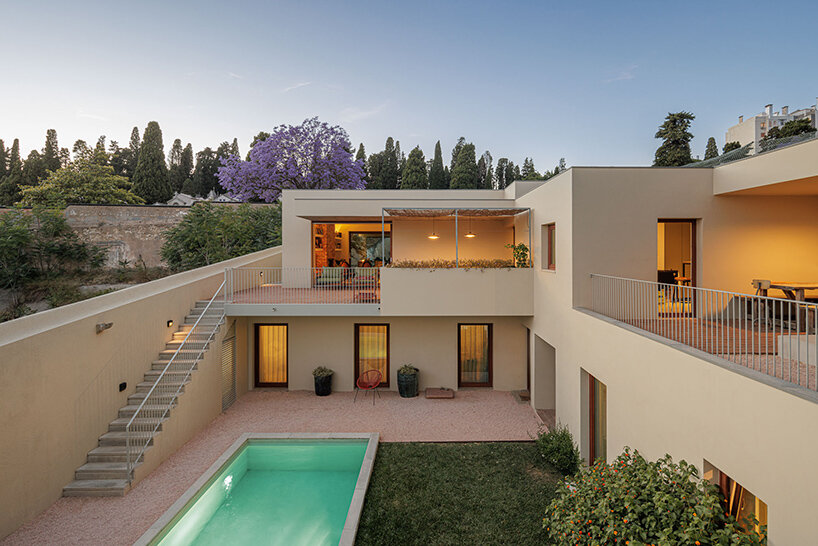 the bedrooms suites are organized on the ground level, with gathering spaces above
The team explains: 'Although adjacent to each other, natural visual barriers were developed to frame the two typologies and give them the necessary prominence within the whole of which they form part.
'In functional terms, Prazeres 37 and Possidónio da Silva 37 — the formerly vacant building mentioned above — are connected to one another through an area composed of an entrance hall, accesses and parking. The meeting point between the two plots is located outside.'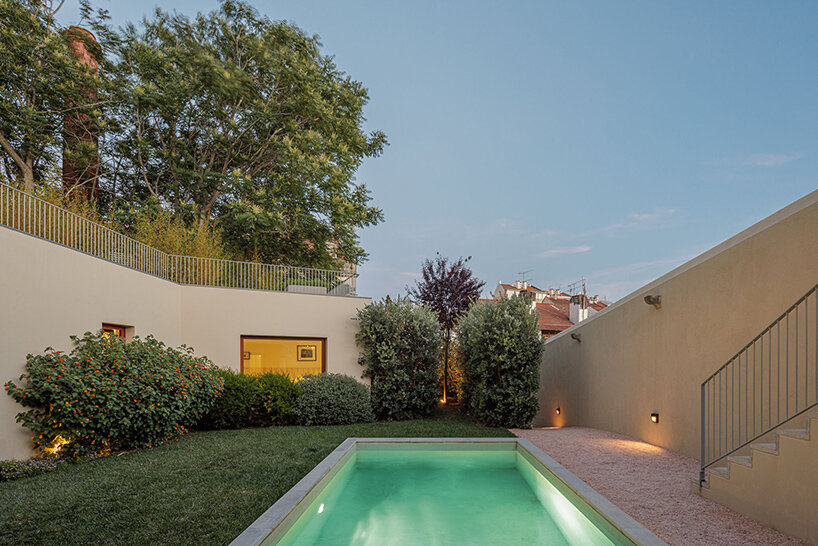 interiors open through large openings onto the pool and garden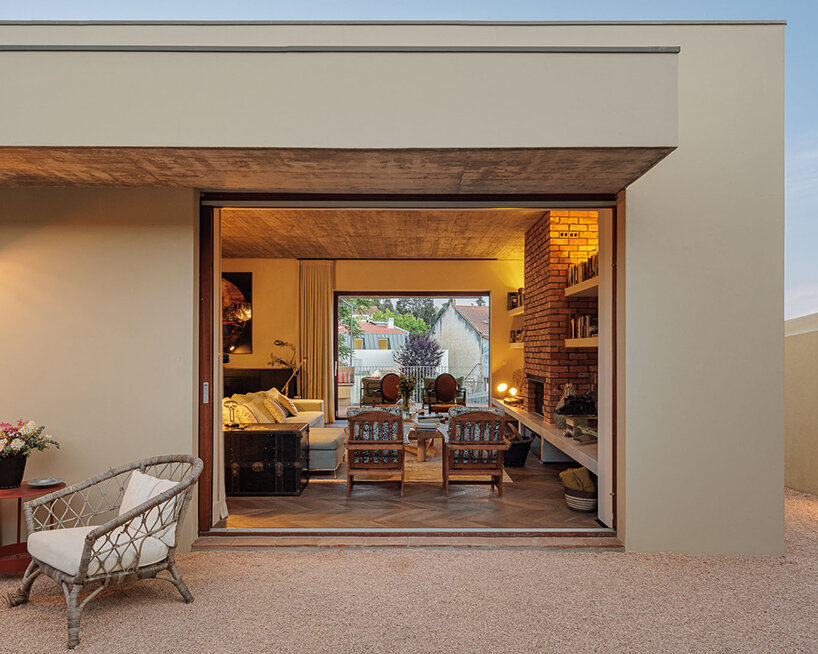 full-height windows flood the spaces with sunlight and ensure breezes